Zoom Teeth Whitening

Cambridge, MA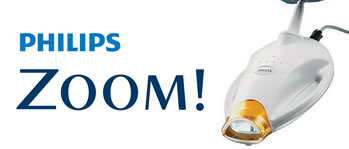 A white, bright cosmetic smile can provide an immediate confidence boost to anyone. Having a smile that you are proud of can make you more comfortable in social gatherings and when meeting new people. Americans spend millions of dollars each year on in-home restorative whitening kits. There are several types of whitening treatments available, both at home and professionally. These vary in their effectiveness. At Cambridge Dental, we offer our patients Zoom teeth whitening to whiten and brighten their teeth. We find this treatment is the most effective for whitening teeth.


What is Zoom Teeth Whitening?

While traditional teeth whitening treatments typically consist of gels or bleaching treatments, Zoom Teeth Whitening is different. Zoom combines a teeth whitening mixture with a specialized LED light to whiten your teeth. Through the use of the ultraviolet light, the whitening agent is able to reach all of your teeth all at once, and also get further into the tooth enamel in order to have a deeper and more effective stain removal.


Why Do Our Teeth Become Discolored?

Teeth tend to become discolored by darkly pigmented food and drinks that we consume. Coffee, tea, and berries are common culprits for discoloring our teeth. Products containing nicotine, such as chewing tobacco and cigarettes can also discolor teeth. Aging can discolor teeth as well; as we age our enamel begins to thin, leaving the dentin to have a yellow tint.


Can I Get Zoom Teeth Whitening?

Typically, anyone with healthy teeth can be a candidate for Zoom Teeth Whitening. It should be noted; however, that whitening cannot be performed on dental bridges, crowns, or veneers. If you are considering other cosmetic dental procedures, such as bonding or veneers, whitening may be recommended beforehand.


What is the Process for Zoom Teeth Whitening?

We will first schedule a dental exam with you in order to review the health of your teeth and gums, as well as go over your dental history. Once approved for the procedure, you can be scheduled for your Zoom Teeth Whitening treatment. The whitening process does not require any anesthesia. The entire procedure lasts approximately one hour, and can get your teeth several shades whiter. The Zoom whitening mixture will be applied to your teeth and left to sit for 15 minutes, in order to break down and get rid of unwanted stains and discoloration. This process is then repeated three times, and is quicker than traditional in-office whitening treatments.


Are You Ready to Whiten Your Teeth?

The Zoom Teeth Whitening procedure and process is simple, yet very effective. After your whitening procedure is complete, we will send you home with instructions on how to best retain your bright new teeth and smile.

When it comes to achieving the white smile that you have always wanted, there is no substitute for professional teeth whitening. If you are ready to get started, our professionals at Cambridgeside Dental Associates can help. You can schedule your Zoom Teeth Whitening treatment by calling our office at 857-588-1210 today.