Dental Implants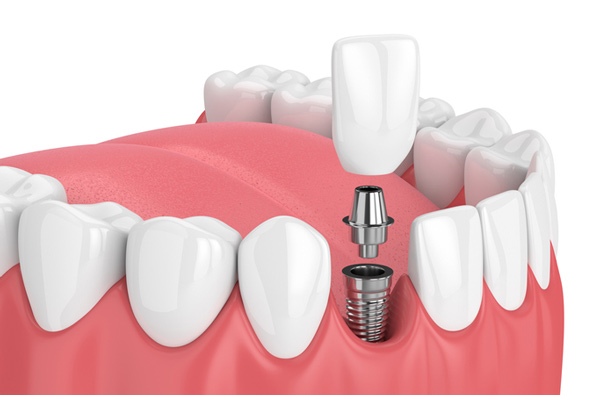 When a procedure known as a dental implant is being performed, it is to have a gap replaced with an artificial tooth. In contrast to a denture that can be removable, the implant is permanently placed where the tooth was.

An implant is a screw made of titanium and it is similar in appearance to a real tooth. As time goes on, the implant will gain more support from bone that grows around it.

If you have a missing tooth that you have been meaning to replace, then having an implant through Cambridgeside Dental Associates will be more than possible. We will not only fill in the gap with a permanent artificial tooth but restore your ability to enjoy the foods you love.


Timeframe for a Dental Implant

The amount of time that it takes to have a dental implant completed may vary. Normally, a complete dental implant will be over the course of months that will include additional testing and follow-ups.

When you first attend your appointment, you will have x-rays taken so that your dentist can see everything around the implant spot. You will be given anesthesia prior to the implant being inserted and screwed in.

After a couple of months, the bone will be growing to provide more support. After stabilization is achieved, a base for the tooth will be produced. Later on, a mouth mold will be obtained in order for the tooth to be created. Once the implant is ready, it will be screwed in permanently.


Dental Implant Expectations

Following your dental implant surgery, you can expect some swelling, pain, and bruising to develop. In some cases, there may be bleeding involved. Your diet may need to consist of foods that are soft. This is so that the site of the implant will heal properly. Having a dental implant does not involve any special after-care to worry about. If anything, you will be just reminded to maintain your brushing and flossing habits.


Dental Implant Alternatives

An alternative to a dental implant will consist of a dental bridge or having dentures. Regardless, there are some nice benefits to implants, such as the way they feel and appear just like a real tooth.


Costs Involved With Dental Implants

It is expensive to have a dental implant surgically planted in the jaw. In fact, the price could soar into the thousands.

It is important that you know what the costs involve before you make your appointment. Ensure that your dental insurance will cover the costs and/or how much you will need to pay out of pocket.


Potential Problems With Dental Implants

Just like all surgeries, there will always be a risk for problems to occur following the dental implant. To avoid any problems, it is best to have a plan in place to ensure that the health of the patient is adequate.

It is important that all of the medical history gets reviewed. This way the dentist will be aware of any conditions that may exist prior to a dental implant being placed.

The good thing is that dental implants are highly effective and successful and the only time one may fail will be if an infection occurs.

If you have always thought about having an empty space filled with an artificial tooth, then our dentists here at Cambridgeside Dental Associates will go over what the process will involve. Thus, give us a call today at 857-588-1210.